Meet Dr. Hoffman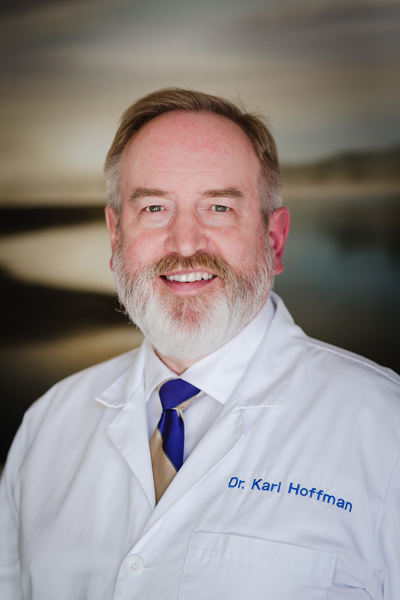 Karl Hoffman is a Washington native who grew up on Bainbridge Island. He graduated with a bachelor's degree from the University of Washington in 1986 and received his doctor of dental surgery in 1990, also from the University of Washington. After dental school he spent 4 years in the Commissioned Corps of the U.S. Public Health Service and served in several different locations around the country. After returning to Washington, in 1995, Dr. Hoffman taught at the UW dental school for two years and started a private practice here in Thurston County. He is active in study clubs that meet every month and in several dental academies. He has completed hundreds of hours of advanced training in restorative and cosmetic dentistry.


Community Service

He has volunteered from 2 to 10 days per year at the Olympia Union Gospel Mission Dental Clinic (OUGM) in Olympia from 2004-2019. He has spearheaded the formation and implementation of the Thurston County Dental Access Network (TCDAN). "We launched the program in March of 2007 and have made significant gains in the access to basic dental care for impoverished people in our county. We now have over 20 dental offices accepting referrals from the Olympia Union Gospel Mission, and we have over 20 dentists volunteering at the Mission. I am so lucky to work with the dedicated people on our board and at the Mission and the giving dentists in our community."

Dr. Hoffman is a member of the Global Medical Brigades at the University of Washington (please donate) and volunteered in Nicaragua Summer of 2017.


Professional

Dr. Hoffman is currently a part-time faculty member of:

Dr. Hoffman is a member in good standing of:

Dr. Hoffman is currently the membership committee chairman and is a board member of:

Other Academic Memberships:


Study Clubs
Other Memberships
Links


Dr. Hoffman has been married 25 years, has two children in college and is active in his church. He has sponsored numerous youth sports teams, other youth activities, donates time to raising funds for such groups as Special Olympics, and has sponsored a local Veterans Appreciation Dinner for the past four years.