Dental Veneers

Lacey, WA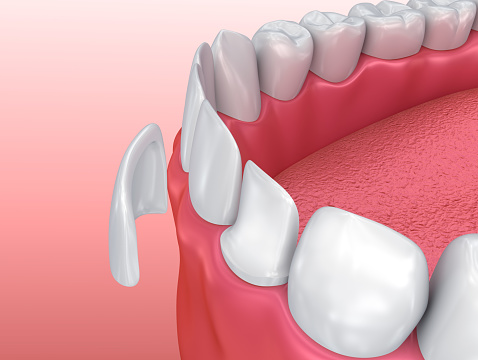 If you have ever lived with crooked teeth, chipped teeth, or unsightly gaps between the teeth, you know how intimidating and embarrassing it can be. You will perhaps want to hide your smile. You may also have problems with the bite function such as difficulty chewing. If you have these problems, dental veneers are a good option. These restorations help you regain the desired look and offer protection for your teeth. They also help regain your bite function. Veneers are custom-fabricated shells that help cover the teeth, particularly the front surface. When you come to our office we will examine you to see if you can benefit from veneers. Our dental professionals at Karl Hoffman Dentistry offer different kinds of veneers that you can choose from.


Types of Veneers

Our dentist will suggest getting veneers if you desire to change the length, shape, and appearance of the teeth. The dentist will fit these restorations onto the teeth to cover them. Porcelain veneers are the most common type of veneers. Additionally, we provide composite resin veneers. Composite resin veneers are durable and very versatile. We custom-make the veneers for you, ensuring they fit properly and are comfortable. Composite veneers are a bit cheaper and the process of getting them is quick. You can receive your composite veneers in a single appointment.


Fitting Veneers

Our dentist will begin the procedure by examining you to determine the nature of damage or type of issue needing to be fixed. The dentist will file down the enamel including the front surface and the sides to make room for the veneers installation. The dentist will then take impressions of the teeth that help fabricate a structure or model of the tooth. We will help you decide which shade of veneers you want. You can choose a shade that aligns with the color of your teeth. The mold is taken to the lab to construct your customized veneers.

It will take a few weeks for the veneers to be constructed. While waiting for the permanent restorations, our team will prepare temporary veneers to place over the teeth. You will, later on, come in for the permanent veneers. The dentist will clean the teeth before installing the veneers to ensure they are placed on a clean surface devoid of bacteria, plaque biofilm, and food particles.


How Do You Care for Veneers?

Fortunately, dental veneers will not require out-of-the-ordinary care, nonetheless, it is paramount you maintain good oral hygiene. Flossing and brushing are crucial to keep bacteria, plaque, and other debris out of the mouth. Clean your mouth with an antimicrobial mouthwash to eradicate germs and bacteria.

You may need to get a nightguard from our dentist if you clench your jaw and grind your teeth. This oral appliance helps avoid damaging the veneers from the pressure created by teeth grinding. You should reduce your beverage intake of drinks like coffee, red wine, and tea because they can stain the veneers. Similarly, avoid, or quit smoking as the habit tends to stain your veneers.

Find out more about dental veneers by visiting us at Karl Hoffman Dentistry. Schedule your appointment today by calling us at 360-539-3429.