Dental Exam

Lacey, WA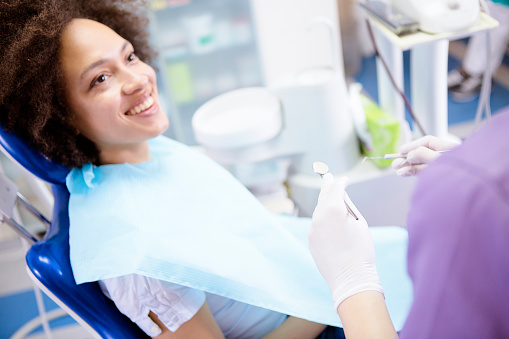 Dental exams and dental cleanings are important for everyone, but they're especially crucial for adults. Here at Karl Hoffman Dentistry, we want to make sure our patients have the best oral health possible, which means keeping up with regular dental care. Our team and dentists will give you a comprehensive exam to look for any problems, and then they'll clean your teeth to get rid of any built-up plaque or tartar. Here is everything you need to know about these exams and cleanings for adults.


Why should you get a dental exam?

Your dentist will perform a comprehensive exam at your first visit. This involves looking in your mouth and checking the health of your teeth, gums, tongue, and other tissues. They'll also look for any signs of decay or damage. If you have any dental problems, they'll be able to treat them right away.

A dental exam is vital for adults for two reasons: prevention and treatment. A comprehensive exam can help identify potential problems before they become serious, and it can also catch early signs of oral cancer. Catching these problems early makes treatment much easier and less expensive. In addition, if you already have some dental issues, we can develop a treatment plan that will address them.


What to expect during your visit.

For an adult dental exam, we'll start by reviewing any previous treatment records. Next, we might take x-rays to look at your teeth and gums' overall structure and health. Then, one of our dentists will give you a thorough cleaning that includes scaling (scraping) plaque from the surface enamel in problem areas. This can be uncomfortable because it involves scraping off some built-up tartar below the gumline, but there are ways to make this process easier for you! If they find decay or other problems during your visit, they may also need to perform a root canal procedure before giving you a filling or crown.


How reliable are dental exams?

Like any other medical procedure, there is always a certain amount of risk involved with dental exams. However, the benefits of getting regular exams usually outweigh the risks. Dental exams are very reliable when it comes to identifying problems in your mouth and helping to prevent them from becoming worse.


How often should you come in for cleanings?

As part of your dental exams, you'll receive a professional cleaning. This takes care of any plaque or tartar that might have built up on teeth during the last six months to one year. However, if these deposits are not removed by brushing and flossing at home, they can quickly turn into cavities in only a few weeks. That's why we recommend coming in for a "deep cleaning" every six months to one year, depending on your specific situation.


How to maintain healthy teeth after the exam and cleaning?

Make sure to brush twice a day with fluoride toothpaste, floss once a day, and use an antiseptic mouthwash. You can also try using dental wax or fluoride rinse between your teeth every few days just before brushing for extra protection! In addition, avoid eating sticky foods that will get caught in your teeth, drink plenty of water throughout the day, and limit snacking on sugary treats.

If you have any questions about how to maintain healthy teeth through home care after your exam and cleaning session, please feel free to ask us at Karl Hoffman Dentistry. We'll be happy to help you keep up with proper oral hygiene so you can enjoy all of life's little pleasures, like tasty food! If you want to call us, reach us through 360-539-3429.