Dental Bridge

Lacey, WA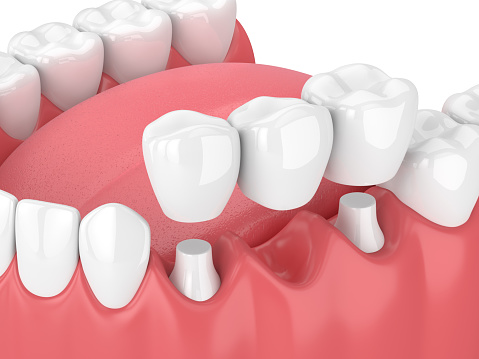 Dental implants are all the rage these days. But what if you don't have the money for implants? Or what if your doctor tells you that you're not a good candidate for implants? Don't worry - there are other dental options available to you! One of those options is dental bridges. Here at Karl Hoffman Dentistry, dental bridges present their own set of advantages that make them very attractive. So why should you choose dental bridges over implants? Keep reading to find out!


Dental bridges are a more affordable option than dental implants

Dental implants can cost thousands of dollars. And if you don't have dental insurance, it will be even more difficult for you to afford such a procedure. On the other hand, dental bridges are much cheaper than implants, and they're still durable enough that they will last at least five years! So dental bridges may be your best option if the price is your primary concern.


Dental bridges are less invasive than dental implants

Dental bridges are made out of porcelain, and they're attached to the teeth on either side. On the other hand, dental implants require surgery because a titanium post has been surgically inserted into your jawbone to support the implant crown, which will replace one or more missing teeth. While there aren't many people who have concerns about having surgery in general, some individuals may be apprehensive about going under anesthesia for their procedure. If you don't want to go through any invasive procedures, perhaps a non-invasive treatment like a bridge is what you need!


Dental bridges are just as durable and long-lasting as dental implants

Many people worry that dental bridges may not be as durable as implants. But the truth is, both dental bridges and implants are incredibly durable, and they can last for many years with proper care. Dental bridges have a lifespan of up to ten years! So if you're looking for a long-term solution, then dental bridges are a good choice.


Ease of maintenance

Ease of maintenance is another factor to consider. Dental implants require a lot of upkeep, including regular checkups and cleanings. However, since dental bridges are attached to the teeth on either side of the gap, they don't require much maintenance. All you need is a good brushing and flossing routine!


Bridges can replace multiple teeth

Another advantage of dental bridges is that they can replace multiple teeth. If you have several missing teeth, a bridge may be the best option for you. Implants can only replace one tooth at a time. So if you're missing more than one tooth, then dental bridges are a better solution.


Implants may not be the best option for everyone

While dental implants are an excellent option for many people, they may not be the best solution for everyone. Some people may not be good candidates for implants due to health concerns or lack of jawbone density. As such, dental bridges may be a better option for them.

At Karl Hoffman Dentistry, we believe that dental bridges are a great alternative to dental implants. They're more affordable, less invasive, and just as durable! If you're considering getting dental implants but aren't sure if you can afford them or if you're worried about the invasiveness of the surgery, then please give us a call at 360-539-3429, and we'll discuss your options with you!